The Poet on the Errant Path. Handke in Context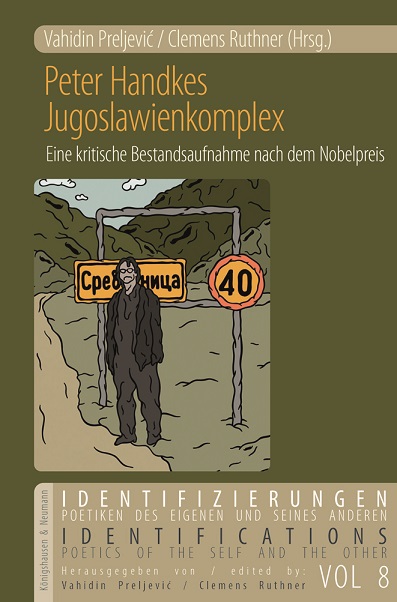 Article by Alida Bremer, published in "Peter Handkes Jugoslawienkomplex".
About the book: For over 30 years, Yugoslavia has been one of the most important topoi in Peter Handke's work. It already appears as a literary landscape in Wiederholung (1986) and, since Abschied des Träumers vom Neunten Land (1991), also as an aesthetic and political obsession that runs as a deep trace through the Austrian author's notorious "travelogues" and other texts. Handke's literary depictions of the Yugoslav wars as well as his frequent omissions in interviews and public appearances have regularly led to media controversies and decisively shaped his image as a political author - most recently on the occasion of the award of the Nobel Prize for Literature in 2019. The contributors to the anthology attempt to approach this phenomenon from poetological, sociological, political, media and cultural studies perspectives, taking greater account than usual of political and historical backgrounds in the former Yugoslavia.
The book brings together ideology-critical analyses of, for example, nationalist discourse and the concept of the people in Handke's texts, imagological investigations of the construction of the Other, but also media-critical approaches devoted to the image of the writer in the 'Handke debates'. In addition to scholarly essays, several prominent literary and philosophical essays have also been included that revolve around the topic. The contributions are by Gerrit Althüser, Bettina Baláka, Alida Bremer, Theodore Fiedler, Helen Finch, Paul Gruber, Steffen Hendel, Barbi Markovic, Thomas McDonald, Mira Miladinovic Zalaznik, Wolfgang Müller-Funk, Katja Perat, Michael Portmann, Vahidin Preljevic, Clemens Ruthner, Saša Stanišic, Svjetlan Lacko Vidulic, Verena Walzl, Simge Yilmaz, Slavoj Žižek a. o. a.
The editors Prof. Dr. Vahidin Preljevic teaches German-language literature and cultural theory at the University of Sarajevo. Main research interests: Literature of Austrian Modernism, Romanticism, contemporary literature, history of perception, identity narratives. He is also an essayist and literary translator. Prof. Dr. Clemens Ruthner teaches German and European Studies at Trinity College, Dublin. His research focuses on 19th-20th century Austrian literature, alterities, the Habsburg monarchy, postcolonialism and cultural theory. He is also a literary critic and runs the Central Europe blog Delirium clemens.
Peter Handkes Jugoslawienkomplex at Königshausen & Neumann Publishing House